—
Colitis Ulcerosa
—
—
Psoriatic Arthritis
—
—
Rheumatoide Arthritis
—
Pfizer



~
Vaccination
campaign
Client :

Pfizer


Agency :

RCKT


Website :

impfenkann.de

Date :

2019





When RCKT contacted me about illustrating diseases I wondered what in my portfolio made them think I was fit for the job … but they simply answered that they're searching illustrators with a « certain » style to approach those diseases as « monsters ».

They sent me seven diseases. My first thought was to stylize physical symptoms but it was not enough. I had to show where it manifests and also illustrate pain. I chose to develop a really simple geometric language with dots as rashes and zig-zag / pointy triangles for pain. Then design what would be intestine, fingers, hand, spinal column. After, it was a matter of combining them to create characters. Some are really abstract, some are almost kawaii, but I try my best to keep some « distance ».

At the end of the day,
these are diseases people deal with
all their lives. Not Pokemons.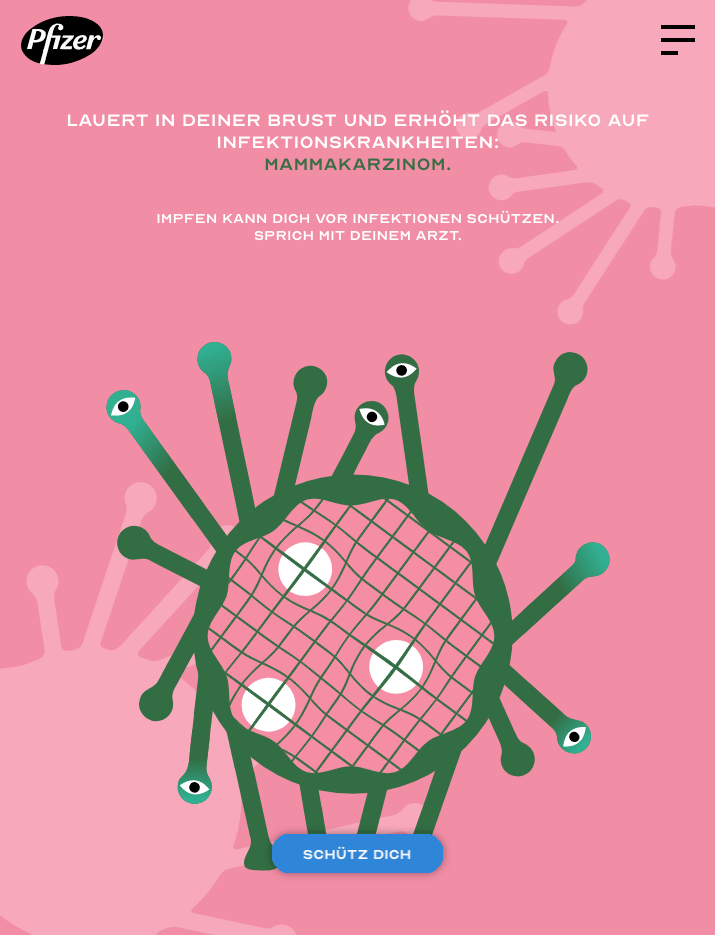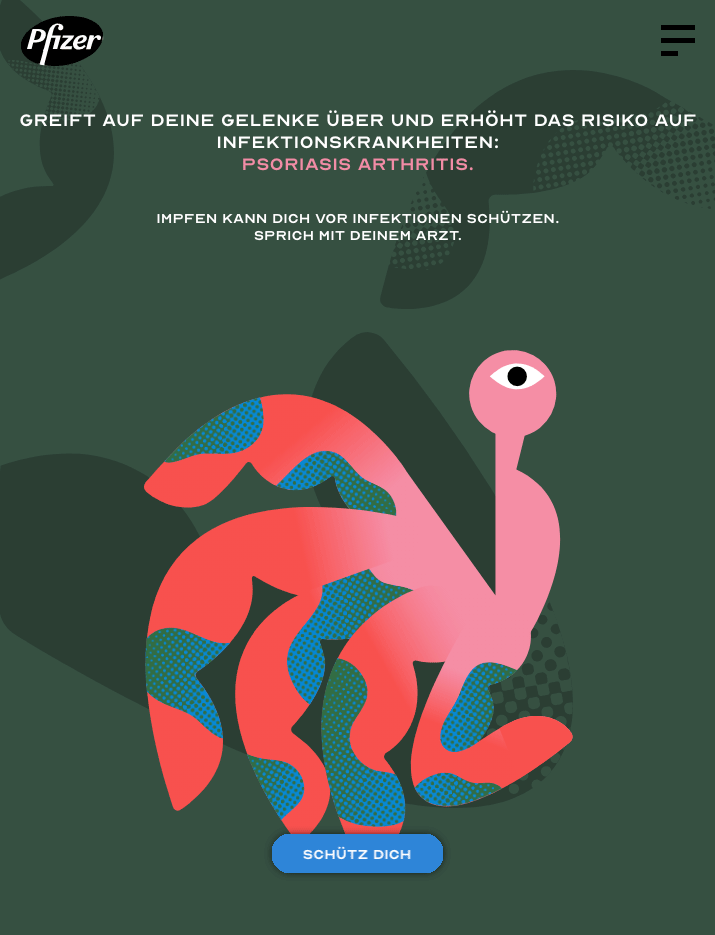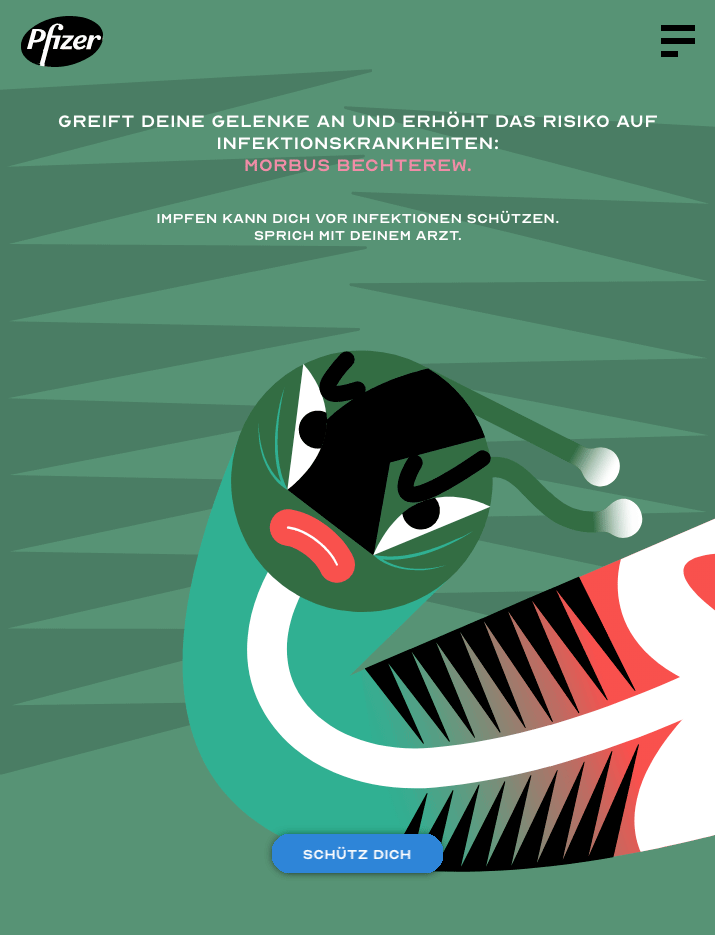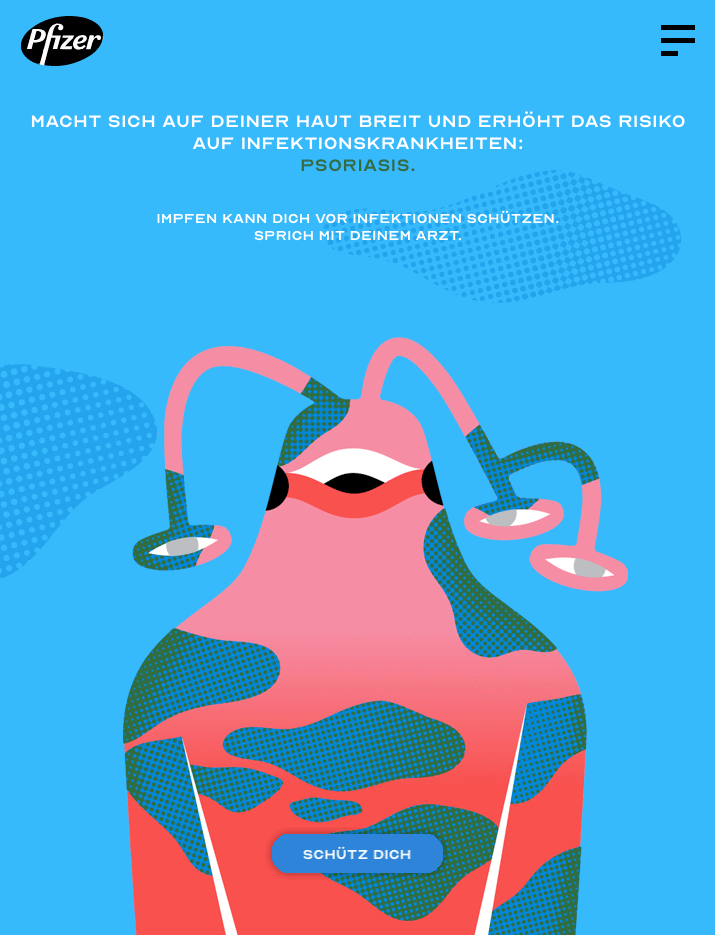 — Online posters —
By the way, I was given a color palette to work with. I found it quite difficult at first but I must say, it looks good. I often work with bright simple colors — it's the style I developed — but I should consider changing them sometimes. If only I would have a sense for it … but it takes me so much time to choose colors, I don't make the effort anymore.

To finish, I have to say that this was the smoothest job of the summer. I was talking about it to my agent saying I was really lucky / surprised how well it went and he answered that's what good art direction is. I must have been the perfect choice because I delivered and the client was really happy about it. A big THANKS to Benedikt for that, and to the crew for animating the whole. It looks awesome.